Fixed Rate Investments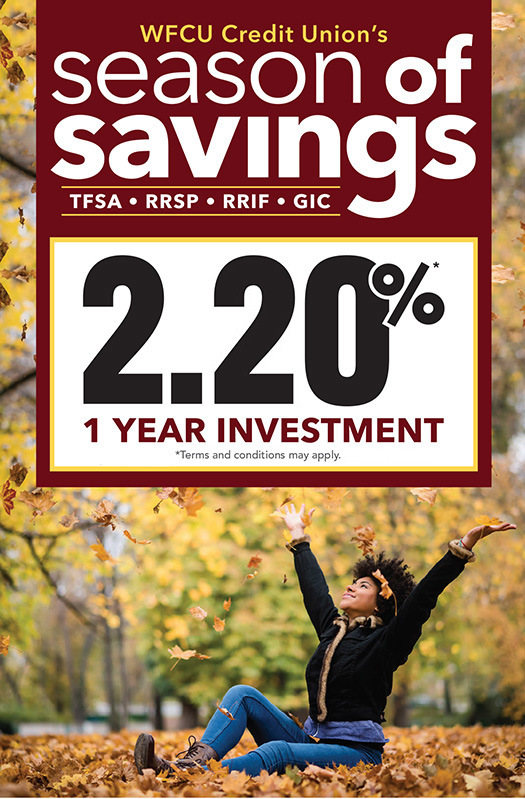 Fall is the Optimum time to invest. Open a new 1-year fixed rate Optimum Investment with WFCU Credit Union and fall in love with the season of savings. All registered investments are fully insured through the Deposit Insurance Corporation of Ontario.


To take advantage of this amazing rate, call 519-974-WFCU or stop by a branch today.
GICs - Guaranteed Investment Certificates
Our GICs provide the following benefits:
Peace of mind knowing that your interest rate is guaranteed and your principal is safe and secure.
A range of terms to fit your investment needs. All funds are reinvested in our community as loans and mortgages.
WFCU Credit Union Guaranteed Investment Certificates (GICs)

Features

Our highest guaranteed interest rate for the term selected

Safe and secure

Interest payment flexibility

Automatic renewal options

Rate of Return

Guaranteed for the term selected

Terms

1 year to 5 years

Minimum Investment

$500 for Adults
$100 for Young Members (under 18)

Current Rates

Click here to view the current GIC rates
---
Deposit Insurance Corporation Of Ontario
DICO is a corporation established by the Credit Unions and Caisses Populaires Act (Ontario) to provide deposit insurance for credit union and caisse populaire depositors against loss of part or all of their deposits. The deposits accepted by all credit unions and caisses populaires in Ontario, subject to the deposit insurance coverage limits specified in the Act and DICO By-laws, are insured by DICO.
For more information on DICO, please visit their website, www.dico.com.
*All insurable non-registered deposits are covered up to $250,000. Insurable deposits in registered accounts have unlimited deposit coverage. For further information on deposit insurance, please ask for a brochure at the credit union or call DICO at 1-800-268-6653 or log on to the website at www.dico.com. *Minimum investment of $500. Terms and conditions apply. Rates subject to change without notice. Investments are non-redeemable. New funds only.