Anderson Cooper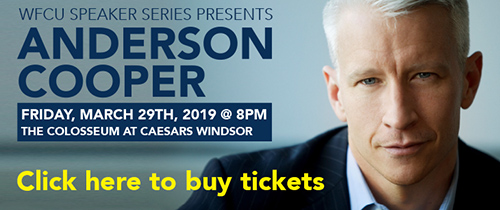 WFCU Credit Union is pleased to announce Anderson Cooper as its inaugural speaker of the
WFCU Credit Union Speaker Series
. The Speaker Series, part of the WFCU Credit Union's
Inspire Program
hosts renowned personalities who share unique experiences and perspectives on a variety of topics including entertainment, politics, environment, business and the arts.
Anderson Cooper is the anchor of CNN's
Anderson Cooper 360º
, a global newscast that goes beyond the headlines with in-depth reporting and investigations. Since the start of his career in 1992, Cooper has worked in more than forty countries and has covered nearly all-major news events around the world, often reporting from the scene.
Cooper has also played a pivotal role in CNN's political and election coverage. He has anchored from conventions and moderated several Presidential primary debates and Town Halls. In 2016, Cooper was selected by the Committee on Presidential Debates to co-moderate on the three debates between Donald Trump and Hillary Clinton.
In 2016, Cooper wrote…"The Rainbow Comes and Goes: A Mother and Son on Life, Love and Loss" – a collection of correspondence between Anderson and his mother, Gloria Vanderbilt. It debuted at the top of the New York Times Best-Sellers list and remained on the list for three months. Cooper's first book, "Dispatches from the Edge: A Memoir of Wars, Disaster, and Survival", was published in 2006 and also topped the New York Times Best-Seller list.
Engage with Anderson Cooper as he offers his unique take on some of the world's most important news stories. Don't miss this chance to see this CNN star in a setting like you've never seen him before.
Tickets for Cooper's show are available through Caesars Windsor Box Office and
Ticketmaster
.

PlaySmart 1-866-531-2600 Ontario Problem Gambling HelpLine. All ages welcome in our Augustus Tower and convention complex. Must be 19 years of age or older to enter the casino and all other outlets. Those who have been trespassed from Caesars Windsor and/or self-excluded from any OLG or Caesars property are not eligible to attend Caesars Windsor or related outlets, participate in promotions or redeem offers. The Caesars brand and related trademarks are owned by Caesars License Company, LLC and its affiliated companies. Used with permission.