WFCU Easter Egg Drop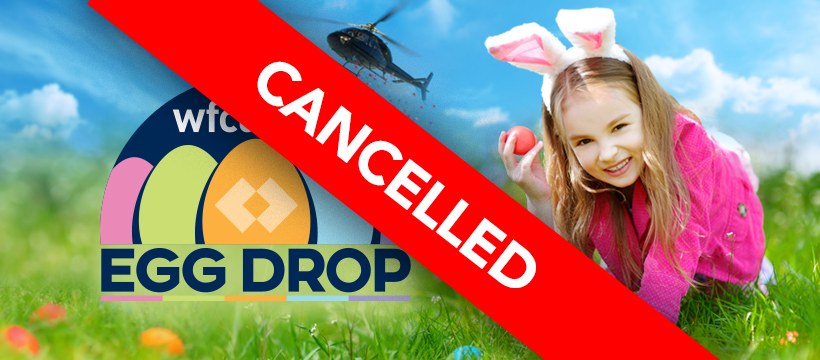 This Easter, WFCU Credit Union is celebrating in a unique and exciting way, by hosting the WFCU Credit Union Easter Egg Drop - the only Easter Egg Drop in Windsor-Essex County!

A unique event featuring 25,000 plastic Easter eggs being dropped from a helicopter for children to collect, this FREE community event is a one-of-a-kind experience Windsor-Essex families won't want to miss!
Saturday, April 11th, 2020
10:00 a.m. – 1:00 p.m.
Vollmer Culture & Recreation Centre
(2121 Laurier Drive, LaSalle, Ontario)



Frequently Asked Questions
Q: When and where is the WFCU Credit Union Egg Drop taking place?
WHEN: Saturday, April 11th, 2020 from 10:00 a.m. – 1:00 p.m.
WHERE: Vollmer Culture & Recreation Centre (2121 Laurier Drive, LaSalle, Ontario).


Sign in begins at 10:00 a.m. The helicopter will pass over at approximately 11:15 a.m. for the first egg drop for children ages 2-4. Subsequent age category egg drops will follow. All children that have registered must sign in in order to receive their Easter egg collection bag and be eligible to participate in the Easter egg collection.
Q: What age does my child(ren) need to be to participate?

Children between the ages of 2-10 are eligible to participate in the collection of the Easter eggs. In order to help ensure all children have a fair chance to gather Easter eggs three separate egg drops will be conducted. One egg drop will be conducted for each of the following age categories: 2-4, 5-7 and 8-10 years of age.
Spectators of all ages are welcome and encouraged to attend.
Q: Do I need to pre-register my child(ren)?
Yes. All children must be pre-registered to participate. Please keep an eye on WFCU Credit Union's website and social media sites for any news or updates regarding registration.
Q: How do I register?
CLICK HERE
for a link to the Eventbrite registration page. Follow the instructions on Eventbrite for registration and be sure to include full information for all children ages 2 -10 that will be participating. Please print your ticket and bring it with you on the day of the event.
Please note: children over the age of 10 and under the age of 2 will not be permitted to participate.
Q: I am pre-registered, now what?

Great! You should be hearing from us soon via email. If you do not receive an email, please check your spam/junk folder.
Q: Will there really be a helicopter dropping Easter eggs? Is that safe?
Yes! Our helicopter pilot is an experienced egg dropper, and the drop will be compliant with all laws and permits. Empty plastic Easter eggs will be dropped from the helicopter at a safe distance from the spectating crowd.
Once it is safe, children will be instructed to start collecting Easter eggs. When children have filled their bags, they can turn in their Easter eggs at the WFCU Credit Union tent in exchange for Easter goodies.
Q: Do we need to bring our own Easter basket to collect Easter eggs?

No. Each child will be provided with a bag to collect Easter eggs. These bags will become a souvenir for the event and can be taken home.
Q: Can I help my child(ren) collect Easter eggs?
If your child is between the ages of 2 and 4 you may help them collect Easter eggs. Parents of children aged 5 and up will not be permitted on the field with their children but can cheer them on safely from the sidelines.
Q: How will my child(ren) know when to begin collecting Easter eggs?

Children will be asked to remain on the sidelines until they are given the signal to begin collecting Easter eggs. Before the Easter egg collection begins and announcer will provide instructions to the children and a buzzer will sound to signify the start of the collection.
Once the buzzer goes, the designated age group (2-4, 5-7 or 8-10) will be encouraged to collect as many Easter eggs as they can using the provided Easter egg collection bags.
Q: What do the children receive after they finish collecting the Easter eggs?

When your child returns their bag of Easter eggs to our WFCU Credit Union tent they will be receive Easter goodies to take home in return. 

Please note: all edible goodies included will be peanut-free; however there will be no dairy-free or gluten-free options available. Non-edible goodies are also included to ensure children with allergies receive Easter goodies as well.
Q: What else besides the Easter egg drop can my child(ren) enjoy at this event?

Before and after the egg drop your child(ren) can enjoy a variety of inflatable bouncy houses, an arts and crafts tent, a dance party, and the chance to meet the Easter Bunny!
Q
: What if it is raining on the day of the drop?

If the weather does not cooperate the dropping of the eggs will cancelled, but all other activities will be moved indoors. We will keep the community informed on any weather and cancellation updates through our website and social media accounts.
Have any questions that are not mentioned here? Email us at
eggdrop@wfcu.ca