Rick Mercer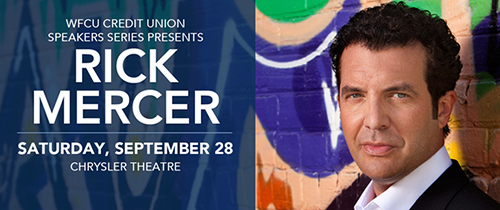 WFCU Credit Union (WFCU) is pleased to announce the second speaker in the WFCU Credit Union Speaker Series, Rick Mercer, the Canadian comedian, television personality, political satirist and author. WFCU Credit Union, in partnership with St. Clair College, will welcome Mercer, best known for his work on CBC Television's This Hour Has 22 Minutes and the Rick Mercer Report, to the Chrysler Theatre on Saturday, September 28, 2019.
"The Speaker Series, and our community investment program Inspire as a whole, is designed to provide engaging, entertaining and educational opportunities for people to come together as a community," said Eddie Francis, President and CEO of WFCU Credit Union. "Our speakers are going to be sharing unique perspectives and experiences on a variety of topics such as entertainment, politics, environment, business and the arts, and it's this diversification in topics that has allowed us to engage with, and create exciting opportunities for, many individuals in our community."
Mercer's new live performance Canada Coast to Coast to Coast is sure to make audience members appreciate, as never before, this unique nation we all call home. It's a heart-soaring and laugh-out-loud funny affair, and a perfect way to celebrate what our great country has to offer.
Few people know Canada like Rick Mercer knows Canada. Whether prodding at our institutions, celebrating our unsung heroes, or illuminating everything wonderful and weird about our country, Mercer is a galvanizing speaker. He's our fiercest critic, our sharpest mind, and our most hilarious comic. This is a one-time talk that gathers together all his, and our, strengths; it is a talk that connects to the past, evaluates our present, and looks forward, hopefully, into the future.
Tickets for Mercer's show start at $75 Canadian (+taxes and fees) and go on sale at Tuesday, January 29, 2019 at 11:00 a.m. (EST) at the Chrysler Theatre Box Office and online through www.chryslertheatre.com.
WFCU Credit Union Members will have the privilege of purchasing Main Floor tickets at a special discounted price (quantities are limited). WFCU Credit Union Members can purchase their tickets at Chrysler Theatre Box Office by showing their WFCU Credit Union debit card.
"We're excited to welcome Rick Mercer to Windsor as part of the WFCU Credit Union's Speaker Series," said Marty Gillis, Chair of the WFCU Credit Union Board of Directors. "I believe with the announcement of Rick Mercer as our second speaker we are illustrating our commitment to bringing renowned personalities to the area."
For more information about WFCU Credit Union's Speaker Series and the latest information on all WFCU Credit Union community initiatives please visit www.wfcu.ca.